CloudFile is a document storage product tailored for landlords. Embedded within property management software, CloudFile allows customers to go paperless and avoid the security concerns and hassle of storing hundreds of pages of leasing documents per renter for seven years.
The Problem
"We want to save the environment, just not enough to pay $1.50 per unit per month."
Discovery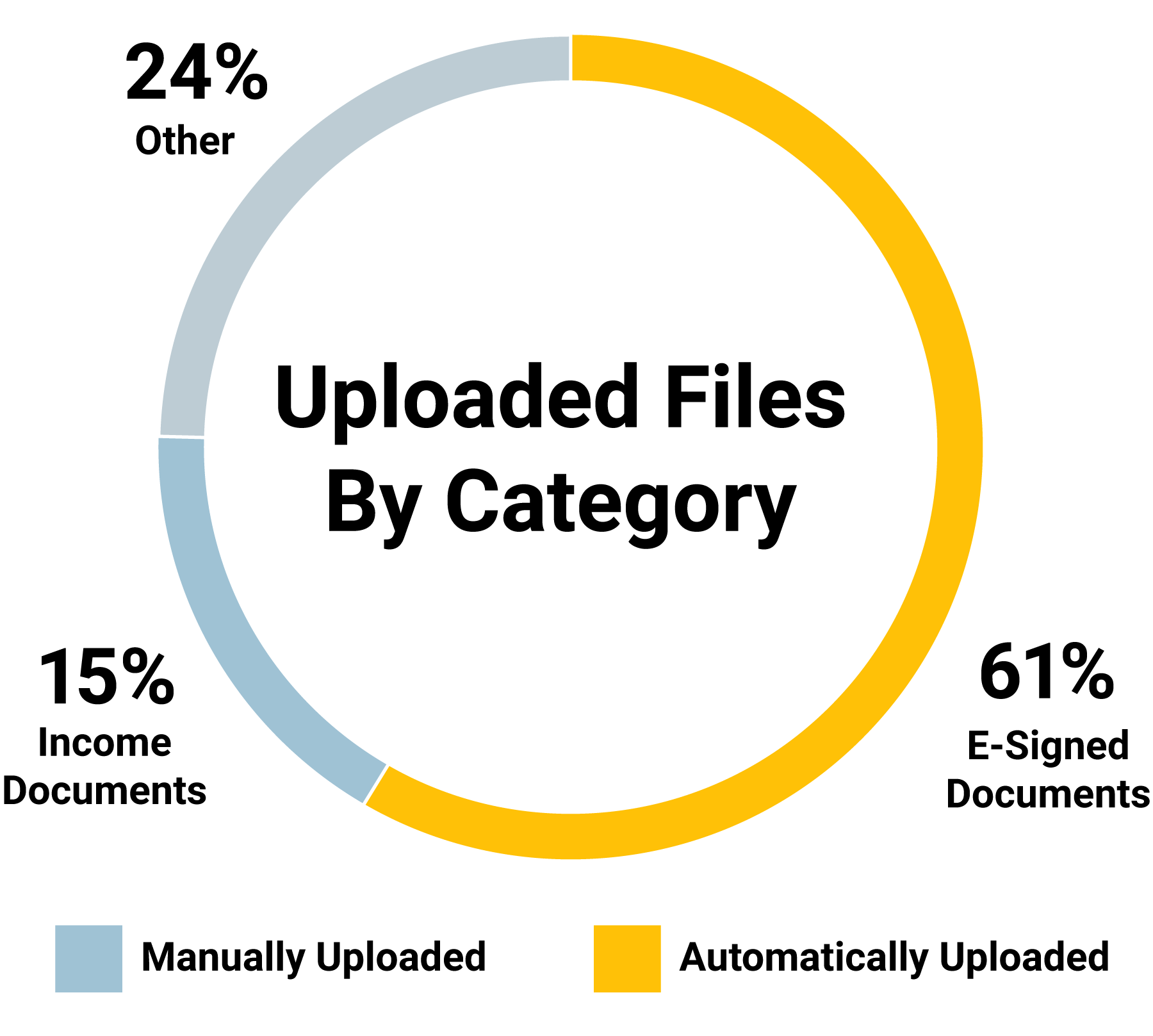 Looking at a report of files in CloudFile, the vast majority were electronically signed documents. The category in a distant second was income related documents. The difference between these categories is the E-Signed documents upload automatically, while income is a manual process. I hypothesized if we could automate proof income, we'd see a major boost in adoption.
I enlisted the help of our team's UX Researcher, Dave Luciano, and we visited leasing offices armed with user testing tasks and questionnaires. Leasing agents shared their policy binders, communication process and file scanning and uploading procedures. While we were surprised at how fast the scanning and uploading process was, but there was significant run-around getting the right documents from applicants.
Lesson Learned:
The source of friction was communicating policy and collecting documents
The Solution
We created a self-service UI to capture property income policy and provide detailed instructions and examples. We then added a proof of income uploader in the application. However, analytics revealed applicants would abandon their application while looking for paystubs. We moved the upload post-application payment. Once renters had paid, they were much more invested in providing accurate information. We returned to the leasing office to test the new flow, bringing developers with us to increase team engagement. At our pilot properties 81% of applicants uploaded their documents directly. The remaining 19% brought the correct documents to the leasing office.
1. Setup Income Policies
Properties setup what kinds of income they accept, and what documents are required to prove the income.
Claiming student loans as income when you're not a student? No bueno.
2. Renter Uploads Proof
The online application prompts renters to upload proof-of-income based on type of income claimed.
Have military income? Please upload your LES statement.
3. Files Store Themselves
Leasing agents can subscribe to be notified when new files arrive for review.
Bob Smith just uploaded income for his job at Starbucks. View the paystubs?
The Results
"CloudFile is awesome, awesome, awesome. I didn't realize how much time we spend begging for income. It saves us 30 minutes per lease!"
Pilot Customer, Community Manager
Before
$600k
Annual Revenue
After
$1.7M
Annual Revenue
Product Marketing
At a startup you wear many hats. In addition to designing and product-managing CloudFile, I contributed to the marketing effort. At On-Site we put on an amazing user retreat every year. I had the opportunity to give product updates from the main stage, led customer workshops, and promote the product with my questionable acting skills. I think I'll stick to design.